Timers
School Bell Timer

Catalogue Number: ELT-SBT1
Automatically operates school bells and/or hooters
Features:
7 day programmable, 1 channel time switch with option of auto daylight saving changeover.
Adjustable timer for bell ring time.
Protective relay 20A rated.
Immediate and holiday manual override.
Labelled terminals for connections.
All in an IP55 weatherproof enclosure.
Options:
Key lock for enclosure.
2 channel time switch.
Pre-programming of times.

Electromechanical Countdown Timer
Catalogue Number: ELT111-(XX)H
(XX= number of hours)
Features:
Manually operated Timer; turn dial to required run time.
Dial turns both ways.
Large, easy to read face.
Clock stops in the event of power failure.
Time ranges & markings:
2hr dial(5min), 5hr dial(10min), 15hr dial(15min), 30hr dial(30min).
Switching contacts: 2 x 16A (resistive) @ 250V.
240v or 110v operation.
Panel mounting.
Compact dimensions; 100 x 70mm face plate.
Weatherproof (IP56) enclosure also available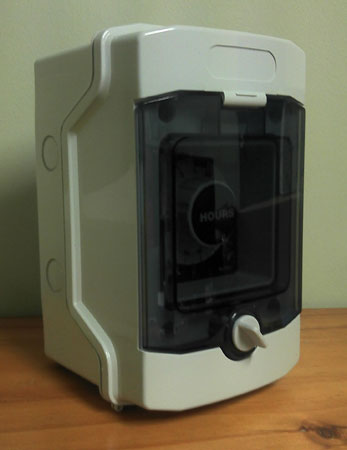 Dimensions & Technical Info Sheet